Our camp is already in full swing with Burning Man preparations so I thought I would go ahead and get started with giving a heads-up about our LJ cocktail party on the playa! It's Wednesday August 31st 'early evening' or whenever the sun isn't blazing anymore. Anyway - we hope you can meet us at Camp
Love-Bites
. There will be an event posting on the calendar at Burningman.com shortly.
Bring your own cup (BYOC) - and some courage if you'd like to get a love-bite. ;-) Or - heck - bring your own love-bites to share!
If you'd like to meet folks going to Burning Man who also want to meet up - join
meet_n_greet05
. See you there!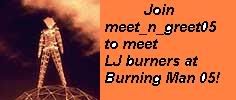 the photo above is by Jim Hair.